Preparation time: 20 minute(s)
Cooking time: 2-4 hour(s)
INGREDIENTS :
15 (12oz) whole-wheat lasagna noodles uncooked
1 15 oz container fat free ricotta
3 cups shredded reduced fat mozzarella
1 28-ounce can crushed tomatoes
1 28-ounce can diced tomatoes
1 5-ounce package baby spinach, coarsely chopped
3 large portobello mushroom caps thinly sliced
1 small eggplant, quartered lengthwise and thinly sliced
1/2 cup liquid egg substitute
5 cloves garlic, minced
1/4 cup fresh basil, finely chopped
1 tsp dried oregano
1/2 tsp salt
1/2 tsp pepper
DIRECTIONS :
In a large bowl, combine egg substitute, ricotta, salt, pepper, oregano, spinach, mushrooms and eggplant.
Mix both kinds of tomatoes and their juice, basil and garlic, in a medium bowl.
Coat a 6-quart or larger slow cooker with non-fat cooking spray.
Spread 1 1/2 cups of the tomato mixture in the slow cooker.
Arrange 5 noodles over the sauce, overlapping them slightly and breaking into pieces to cover as much of the sauce as possible.
Spread half of the ricotta-vegetable mixture over the noodles and firmly pat down, then spoon on 1 1/2 cups sauce and sprinkle with 1 cup mozzarella.
Repeat the layering one more time, starting with noodles. Top with a third layer of noodles. Evenly spread the remaining tomato sauce over the noodles.
Set aside the remaining 1 cup mozzarella.
Put the lid on the slow cooker and cook on High for 2 hours or on Low for 4 hours.
Turn off the slow cooker, sprinkle the reserved mozzarella on the lasagna, cover and let stand for 10 minutes to melt the cheese.
Diet type: Vegetarian
Diet tags: Low calorie, Reduced fat, High protein
Number of servings (yield): 8
Culinary tradition: Italian
Entire recipe makes 8 servings
Serving size is 1/8th of lasagna
PER SERVING: 290 calories; 7 g fat; 38 g carbohydrates; 29 g protein; 8 g fiber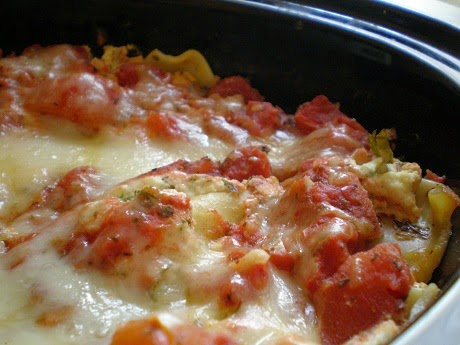 SLOW COOKER VEGETARIAN LASAGNA RECIPE
Total Time:
4 hours
20 minutes
Ingredients
15 (12oz) whole-wheat lasagna noodles uncooked
1 15 oz container fat free ricotta
3 cups shredded reduced fat mozzarella
1 28-ounce can crushed tomatoes
1 28-ounce can diced tomatoes
1 5-ounce package baby spinach, coarsely chopped
3 large portobello mushroom caps thinly sliced
1 small eggplant, quartered lengthwise and thinly sliced
1/2 cup liquid egg substitute
5 cloves garlic, minced
1/4 cup fresh basil, finely chopped
1 tsp dried oregano
1/2 tsp salt
1/2 tsp pepper
Instructions
In a large bowl, combine egg substitute, ricotta, salt, pepper, oregano, spinach, mushrooms and eggplant.
Mix both kinds of tomatoes and their juice, basil and garlic, in a medium bowl.
Coat a 6-quart or larger slow cooker with non-fat cooking spray.
Spread 1 1/2 cups of the tomato mixture in the slow cooker.
Arrange 5 noodles over the sauce, overlapping them slightly and breaking into pieces to cover as much of the sauce as possible.
Spread half of the ricotta-vegetable mixture over the noodles and firmly pat down, then spoon on 1 1/2 cups sauce and sprinkle with 1 cup mozzarella.
Repeat the layering one more time, starting with noodles. Top with a third layer of noodles. Evenly spread the remaining tomato sauce over the noodles.
Set aside the remaining 1 cup mozzarella.
Put the lid on the slow cooker and cook on High for 2 hours or on Low for 4 hours.
Turn off the slow cooker, sprinkle the reserved mozzarella on the lasagna, cover and let stand for 10 minutes to melt the cheese