Prep Time: 20 mins | Total Time: 45 mins | Yield: 8 Servings
The delicious lemon curd in each bite of this Lemon Meringue Pie is such a great experience! You will never be disappointed with this at all! In less than an hour, you can have the best dessert to serve today. Enjoy!
INGREDIENTS :
Optional, 1 tsp lemon zest
1 tsp water
1 box (14.1 ounces) refrigerated Pillsbury™ Pie Crusts (2 Count), softened as directed on the box
1 c frozen whipped topping, thawed
1/2 c marshmallow fluff
3/4 c lemon curd
1 Egg
DIRECTIONS :
Prepare the oven and preheat it to 220 degrees C or 425 degrees F.
Line the inside of a baking sheet with parchment paper.
Coat 8 cannoli forms with baking spray.
Sprinkle flour onto a flat surface, then place the dough on it. Roll it out and slice it into four about 1/2-inch each.
In a small mixing bowl, add water and egg. Whisk to combine.
Wrap each cannoli with a pie, then brush the sides with egg wash to seal. Place them onto the prepared baking sheet.
Put the baking sheet in the freezer to chill for at least 10 minutes.
Remove from the freezer, then put the baking sheet in the preheated oven and bake the cannoli for about 10 to 12 minutes or until done.
Remove from the oven and allow them to rest for a few minutes while you make the filling.
In a mixing bowl, add the marshmallow fluff and lemon curd. Stir to combine.
Add the whipped topping and stir until well incorporated. Pour the mixture into a piping bag. Remove the tip.
Fill each pie shell with the filling and garnish each with lemon zest.
Serve and enjoy!
Note:
Leftovers should be kept in the fridge.
Nutrition Facts:
Calories 340 | Calories from Fat 140 | Total Fat 16g | Saturated Fat 7g | Trans Fat 0g | Cholesterol 55mg | Sodium 290mg | Potassium 10mg | Total Carbohydrate 48g | Dietary Fiber 0g | Sugars 4g | Protein 2g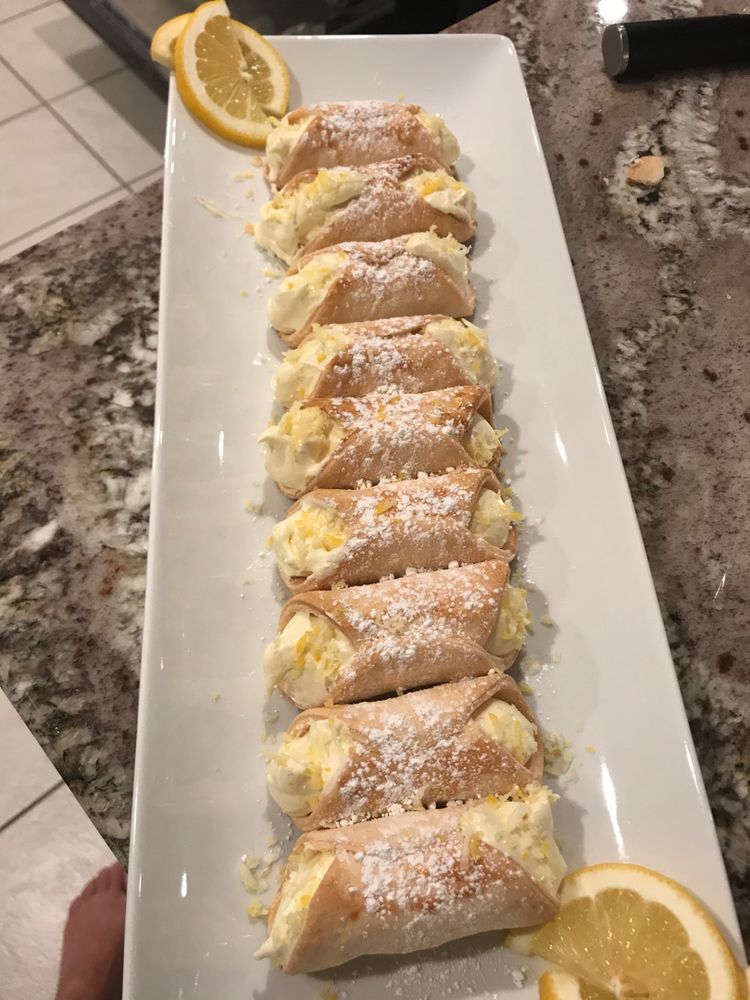 LEMON MERINGUE PIE CANNOLI
Ingredients
Optional, 1 tsp lemon zest
1 tsp water
1 box (14.1 ounces) refrigerated Pillsbury™ Pie Crusts (2 Count), softened as directed on the box
1 c frozen whipped topping, thawed
1/2 c marshmallow fluff
3/4 c lemon curd
1 Egg
Instructions
Prepare the oven and preheat it to 220 degrees C or 425 degrees F.
Line the inside of a baking sheet with parchment paper.
Coat 8 cannoli forms with baking spray.
Sprinkle flour onto a flat surface, then place the dough on it. Roll it out and slice it into four about 1/2-inch each.
In a small mixing bowl, add water and egg. Whisk to combine.
Wrap each cannoli with a pie, then brush the sides with egg wash to seal. Place them onto the prepared baking sheet.
Put the baking sheet in the freezer to chill for at least 10 minutes.
Remove from the freezer, then put the baking sheet in the preheated oven and bake the cannoli for about 10 to 12 minutes or until done.
Remove from the oven and allow them to rest for a few minutes while you make the filling.
In a mixing bowl, add the marshmallow fluff and lemon curd. Stir to combine.
Add the whipped topping and stir until well incorporated. Pour the mixture into a piping bag. Remove the tip.
Fill each pie shell with the filling and garnish each with lemon zest.
Serve and enjoy