Prep Time: 15 mins | Cook Time: 20 mins | Total Time: 35 mins | Yield: 8 Servings
Easy, delicious, and very satisfying! This Butter Chicken is perfect to eat pretty much any time of the day! In just about 35 minutes, you can satisfy your cravings. Enjoy!
INGREDIENTS :
For the Chicken Marinade:
1 teaspoon Chili Powder
1½ tablespoons Extra Virgin Olive Oil
2 teaspoon Garam Masala
1 teaspoon Kosher Salt
1 teaspoon Ground Cumin
1 teaspoon Garlic Powder
2 pounds Boneless, skinless chicken thighs, cut into 1-inch chunks
For the Sauce:
Chopped cilantro, for garnish
3 Garlic Cloves, minced
1 teaspoon Chili Powder
½ teaspoon Cayenne Pepper
1 tablespoon Garam Masala
Kosher salt and freshly ground black pepper
14 oz Tomato Sauce one can
1 teaspoon Ground Coriander
1 Yellow Onion, diced
1½ c Coconut Cream well stirred or blended
1 tablespoon Grated Fresh Ginger
3 tablespoons Clarified Butter, divided
DIRECTIONS :
Add the chili powder, salt, garlic powder, cumin, olive oil, and garam masala into a mixing bowl. Stir everything until well incorporated.
Add the chicken into the bowl with the marinade, then toss to coat. Cover the bowl with plastic, then place it in the fridge to marinate the chicken for at least 6 hours or overnight.
For the Sauce:
Place a large skillet on the stove and turn the heat to medium-high. Add 2 tbsp of clarified butter and allow it to melt.
Remove the chicken from the marinade and shake off any excess. Add them in batches into the hot skillet, then sear each side for a few minutes until they turn brown. Transfer them onto a clean plate and repeat the process with the rest of the chicken.
In the same skillet, add onion, ginger, garlic, coriander, chili powder, and cayenne. Sauté for a few minutes until aromatic and soft.
Add the tomato sauce and stir until well blended. Simmer for about 5 minutes.
Add the coconut cream and stir until well blended. Simmer for a few minutes.
Put the chicken back into the skillet, then toss to coat with the sauce. Simmer for 10 more minutes. Remove from the heat.
Serve and enjoy!
Notes:
Place any leftovers in an airtight container, then put them in the fridge. They can last up to 5 days or 3 months in the freezer. Reheat for a few minutes before serving again.
Nutrition Facts:
Calories: 386 kcal | Carbohydrates: 9g | Protein: 25g | Fat: 29g | Saturated Fat: 19g | Cholesterol: 122mg | Sodium: 666mg | Potassium: 635mg | Fiber: 3g | Sugar: 3g | Vitamin A: 494IU | Vitamin C: 6mg | Calcium: 31mg | Iron: 3mg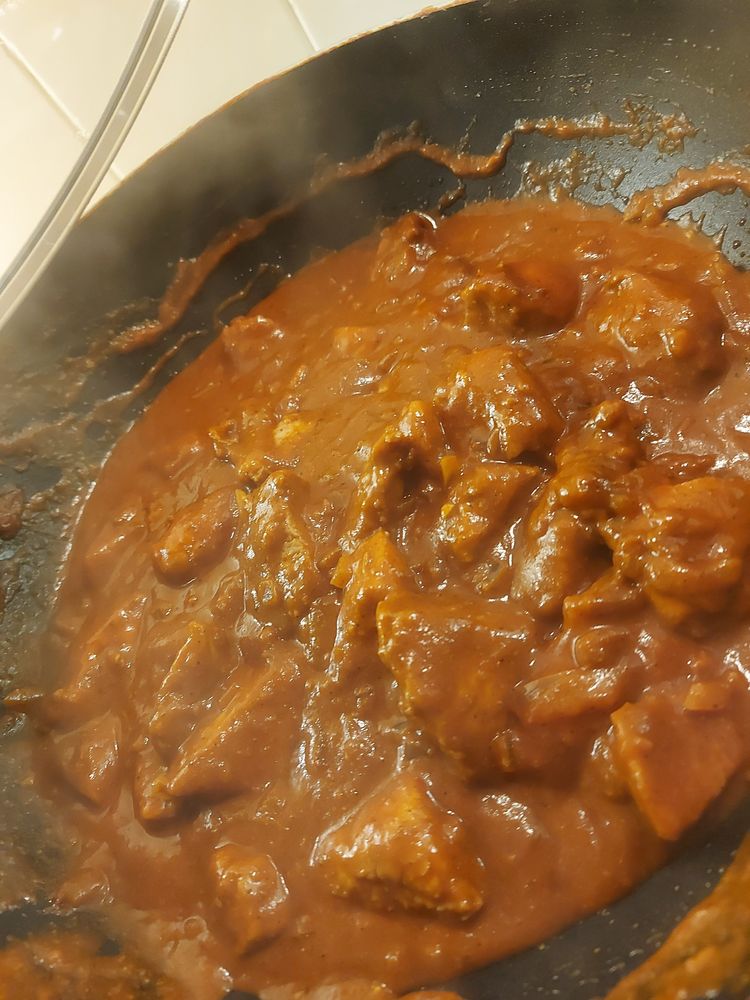 EASY BUTTER CHICKEN RECIPE
Ingredients
For the Chicken Marinade:
1 teaspoon Chili Powder
1½ tablespoons Extra Virgin Olive Oil
2 teaspoon Garam Masala
1 teaspoon Kosher Salt
1 teaspoon Ground Cumin
1 teaspoon Garlic Powder
2 pounds Boneless, skinless chicken thighs, cut into 1-inch chunks
For the Sauce:
Chopped cilantro, for garnish
3 Garlic Cloves, minced
1 teaspoon Chili Powder
½ teaspoon Cayenne Pepper
1 tablespoon Garam Masala
Kosher salt and freshly ground black pepper
14 oz Tomato Sauce one can
1 teaspoon Ground Coriander
1 Yellow Onion, diced
1½ c Coconut Cream well stirred or blended
1 tablespoon Grated Fresh Ginger
3 tablespoons Clarified Butter, divided